Restrict access to HappyFox based on user IP
Introduction:
Using the "IP Restriction" feature in HappyFox, you can restrict access of staff panel only from selected IPs, or a range of IPs.
Note: This feature is available in Mighty, Fantastic and Enterprise.
Permission:
"Manage security based features" should be enabled for the staff or admin to access the IP Restrictions in Security page.
How does it work:
To activate the 'IP Restriction', please follow the steps provided below:
1. Go to Manage > Security
2. Click on "Add an IP address"
3. In the face-box that opens, the Public IP of the network from where the HappyFox account is accessed, is automatically added on the first visit (DO NOT REMOVE).
4. Add a name, and enter a single IP address, or a range of IPs.
5. Click on "Save Settings".
6. Now, you can enable the IP restriction, by checking the checkbox as shown in the image below.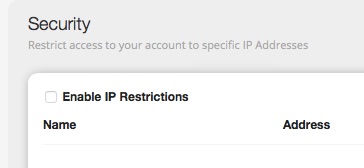 7. You will be prompted with a validation message, displaying your current public IP Address. Verify and click on "Enable IP Restrictions" button, only if the displayed IP is correct. (DO NOT lock yourself out)
If you are locked out of your account, please contact support@happyfox.com.
7. Once these configurations are set, the staff will not be able to access the HappyFox account/staff panel from any other IP.
8. The following "error message" will be displayed, when the staff tries to access the happyfox account from an external IP network.